FISHING SPECIFICS:
My dad's favorite sport was fishing of all types, so naturally I also picked up the sport. My main experience has been with casting and deep sea trolling. While I've fished the waters off Australia, Brazil, Ecuador and the US, most of my deep sea experience has been in the Pacific off the Mexican coast, primarily out of San Blas, Nayarit. I've had the pleasure to fish large schools of "dorado" (dolphin, or mahi-mahi) and even large schools of sailfish (which aren't normally found so congregated).
Dorado are my preferred fish, since they usually give a spectacular and powerful 10-30 minute fight on light tackle. They have beautiful scales of iridescent gold, green, blue and more. They filet easily, providing huge steaks that taste delicious prepared in a variety of ways.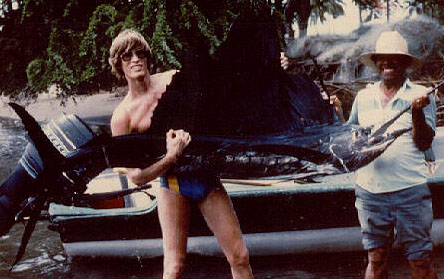 My first sailfish, landed off of San Blas, Nayarit, Mexico in 1978. 7.5' long, 84 lbs.